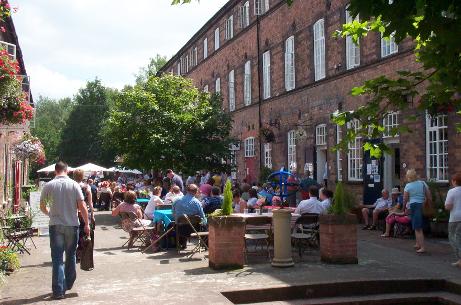 "a crafty little secret in the gorge"
Welcome,
Maws Craft Centre is situated in the heart of the picturesque Ironbridge Gorge, a UNESCO World Heritage Site, 1.5 miles from the historic Iron Bridge.
This beautifully refurbished former Victorian tile factory now comprises over 20 independently run studios housing an eclectic mix of Arts & Crafts specialists and Holistic therapists, together with our popular café & tearoom.
Our large courtyard is used to host annual events including Glenn Miller Evenings, Jackfield Brass Band Concerts, World Heritage Events, Outdoor Art Exhibitions, and Seasonal Markets.
A charming blend of old and new, the remains of the Victorian tile factory and today's thriving studios at the Maws Craft Centre are set in the beautiful surroundings of the village of Jackfield and forms an integral part of the history of this World Heritage Site.
The Centre is open 7 days a week (though individual shop opening times vary) and we offer the added bonus of no admission fee and free parking to make your visit with us more enjoyable.
Visit our studios, enjoy walking round our peacefully attractive courtyard, or simply sit, relax and enjoy the atmospheric surroundings.
Maws Craft Centre (Jackfield) Ltd, Unit B31, Maws Craft Centre, Jackfield, Telford, TF8 7LS
t: 01952 883030 e: mawscraftcentre@gmail.com w: www.mawscraftcentre.co.uk